Unveiling the new Bike Workshop!
January 6. 2020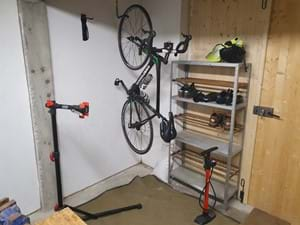 Never one to be idle, Mark spent his spare time over Christmas making a Bike Workshop.
So we now have a fully-equipped bike workshop in the basement, with direct external lockable access from the side of the house. And as the house is built on a hill you don't even have to go down any steps to get to the basement!
There is plenty of space to store bikes, plus a repair stand, foot pump and a full selection of tools, oil and lube that guests are welcome to use.
Le Ban de la Roche is a fantastic base for a wide variety of cycling, from beginners to experts, including road, mountain and electric biking. 
Mark is happy to advise you on the many routes available directly from the house. You can find more information here.